By ANISH KOKA
It's been a while but Anish Koka, a one time regular writer on THCB and occasional THCB Gang member, is back publishing up a storm on his Substack channel. You may recall that his political and clinical views don't always mesh with some of the wooly liberals we feature on THCB (cough, cough, me), but we are delighted to be back publishing some of his pieces–starting with a look at a tweet from one of America's most prominent cardiologists.–Matthew Holt
Given Twitter's commitment to the truth in Medicine, I thought I would try to give them a hand by analyzing a semi-viral tweet about COVID and the heart.
Earlier this year (April 2022), the most influential cardiologist in the world tweeted about a study on the long term cardiac effects of COVID (LongCOVID).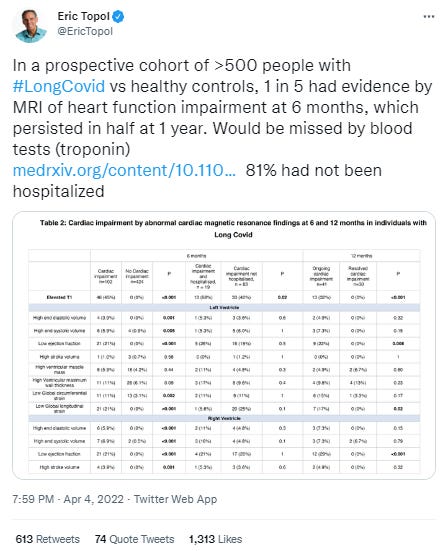 Medical trainees who trained in the early 2000s like I did know Dr. Topol as an absolute legend in the field of Cardiology. He was responsible for seminal work in Cardiology in the 1980's on the use of clot busting drugs for patients having heart attacks, and became head of cardiology for the famed Cleveland Clinic at the age of 36! (I vaguely recall feeling like I was starting to understand Cardiology at the age of 36.) He's since moved on to do many other things, and is a potent voice that may have been instrumental in the FDA delaying approval of the mrna vaccines until after the 2020 election.

Nonetheless, this paper that he is giving his significant stamp of approval to has significant issues. As far as I can tell individuals with LongCOVID were recruited by advertising in LongCOVID support groups. No independent assessment carried out as far as I can tell clinically. If you say you have it—> you're in.
Continue reading…