By e-PATIENT DAVE DEBRONKART
Caution: This post is not a prediction. It's just a tutorial about the concept of herd immunity, with an eye to why it's probably not an approach the US wants to take in solving the complex problems we've gotten ourselves into with COVID-19.
Click this graphic to go see a six second animation of these images, created in 2017 by Reddit user TheOtherEdmund. You many need to watch a few times. Get a feel for the differences in what happens in the different blocks, and come back to discuss: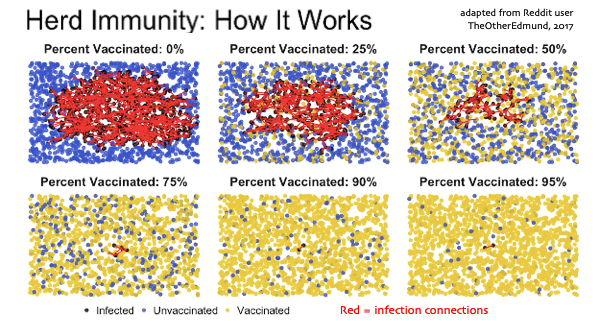 This weekend I've labored to understand this concept, which first came to my ears regarding coronavirus in March, when British prime minister Boris Johnson proposed it as a possible approach for Britain to take: let the virus take its course, and they'd end up with "herd immunity," and that would be the end of that.
In my unsophisticated knowledge "herd immunity" meant "you let the weak cows die, and the rest of the herd will be fine." And in fact in April a Tennessee protestor held up a sign saying "Sacrifice the Weak – Reopen TN." (It's not clear whether the sign was mocking or real (Snopes), but it illustrates the point.)
Continue reading…